Welcome To Congregation Ner Tamid Shel Torah

An inclusive family dedicated to spreading mitzvot, peace and happiness to all people
WhatsNew:
Find Us On Facebook
July 3, 2013
Congregation Ner Tamid Shel Torah is now on Facebook!

facebook.com/CongNerTamid

Like Us
WhatsNew:
Find Us On Twitter
July 9, 2013
Congregation Ner Tamid Shel Torah is now on Twitter!

Follow Us!
RecentEvents:
Rabbi Ivan is on Thumbtack.com
Click here to Find Rabbi Ivan on Thumbtack.com
Rabbi Ivan is delighted to be on Thumbtack.com for all your Lifecycle events. Thumbtack makes it easy for Happy Couples to find the right Officiant for their special day.
About Congregation Ner Tamid Shel Torah
Congregation Ner Tamid Shel Torah translates to "Eternal Light of the Torah." We are a spiritually vibrant and constantly evolving Havurah dedicated to the practice of Jewish Universalism. The foundation of Jewish Universalism holds strongly to the belief that there is only One GOD in all the heavens and the earth. We believe that GOD (Hashem) is the creator of all things in the heavens above and the earth beneath, and the whole universe is filled with Hashem's presence. Jewish Universalism also teaches that all people are "Tzelem Elokim" or created within the image of Hashem; and are by their very existence B'nai Hashem or "GOD's Children."
One may ask, "How does a person truly experience and live their life as if they are "Tzelem Elokim" or created within the image of Hashem?" At Congregation Ner Tamid Shel Torah we welcome you to learn, grow and explore this idea as well as other spiritually challenging questions by joining our family of inclusive and accepting spiritual seekers.
Congregation Ner Tamid Shel Torah is both a Bais Teffilah (house of worship) and a Bais Midrash (house of study.) Many people share the common experience of feeling unfamiliar or even insecure in a traditional synagogue environment. Unfortunately, these are the same people who truly desire in their heart to feel a close connection with Hashem, but find it difficult to achieve the deep Kavanah (spiritual intention) during worship which foster the inner awareness of their "Tzelem Elokim" nature.
At Congregation Ner Tamid Shel Torah we study and practice the same ancient principles, techniques and traditions that have been taught and practiced by learned rabbis, mystics and spiritually advanced teacher throughout the ages. Jewish Universalism teaches that these traditions should be studied, practiced and finally integrated into every facet of a person's life.
The word "Practice" is a very important word in Jewish Universalism. Practice attested to the fact that perfection is not a destination, but rather a path to be traveled. Through practice, a person realizes that the journey of life itself is the awakening of the divine essence of "Tzelem Elokim," and the realization of the eternal light that burns within us all.
Needless to say Congregation Ner Tamid Shel Torah is not your average synagogue that hosts communal worship and then sends everyone on their merry way. With a rich curriculum all from a place of learning and love we are excited to include you as a member of our family.
Our Rabbi: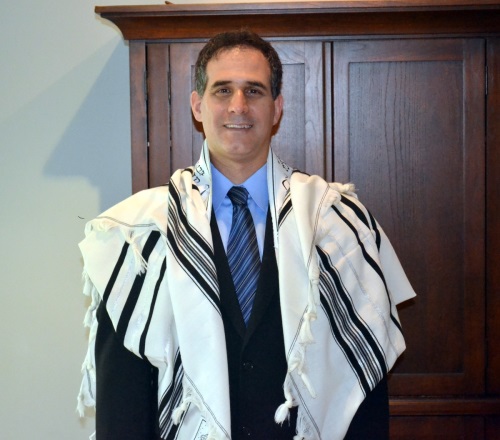 "
(Meet Rabbi Ivan Browner): I am 43 years young, a father of a 5 year old boy named Noah and a 5th degree black belt instructor of a Japanese Martial Art called Torishimaru Aiki-Justu. I believe that life is all about experiencing every moment with openness and gratitude and that we are all on a journey with no itinerary attached. We start out at one place and think we know where we are going, and then suddenly we end up in a completely different location and wonder; "how did we arrived here?" Needless to say, my life's journey has taken me to some pretty amazing places and it just the beginning.
My personal Jewish history - My maternal great grandfather was a Rabbi in the tradition of Baal Shem Tov who was the spiritual leader of a Jewish community in a small town in Romania. I grew up listening to stories about his life from my grandmother and often wished I had the opportunity to have known him. Unfortunately, with the exception of my grandmother and great uncle; the rest of the elders of my family were murdered during the Holocaust. Due to the intense pain and memories of the atrocities the Jews suffered during the Holocaust, the once strong faith that was the stronghold of my family was severely tested for generations. My family kept our cultural identity as Jews, but the tenants and observances of Mitzvot and Torah were not practiced. As a youngster I remember asking myself, "What would my great grandfather think if he knew that our traditions were slipping away?" Upon pondering that sobering thought, I became determined to not allow that thought to become a reality.
Why I became a Rabbi - Since I was a young man, I had the feeling like something was missing deep within me. That yearning percolated within me and finally surfaced as an intense desire to delve into the study of spirituality and search for the answer of why I felt this way. In true to life form, as my questions were being formed and asked, a path which led to understanding these deep questions was revealed. It was at this time that I was introduced to the study of martial arts and meditation. I know most people would think that the study of martial arts is about as close to Judaism as a ham sandwich is to a rabbi, but in truth the enriching study of martial arts is what set me on the path back to my Jewish Heritage. During this time, I was also blessed to have been exposed to other rich spiritual traditions ranging from Japanese Zen meditation to the study of Yoga. These studies helped open my eyes to the difference between personal experiences over mere book knowledge, Amazingly enough, the path of discovery I was treading finally brought me full circle as I found the path of Spiritual Judaism to be even more rich and vibrant than any tradition of Far East origin. It ended up being my Jewish martial arts instructor who helped me find my way back to the study of Torah, Mitzvot and Jewish Meditation. Since that time I have continued to study and learn through the help of many gifted rabbis and spiritual teachers who all have become powerful influences in my life journey.
My Rabbinical Training – Although I have been practicing and teaching Jewish spirituality for over 30 years, the defining formative step in my life's journey occurred when I met Rabbi Steve Blane who accepted me as a student in the JSLI (Jewish Spiritual Leaders Institute) rabbinical program. During my studies at the JSLI and Rabbi Blane, I came in contact with some of the brightest and most knowledgeable proponents of Judaic thought who all shared the same desire of furthering acceptance and understanding into the world. Once I completed my course of study through the JSLI and received my rabbinical ordination in 2011, I felt my life's purpose finally come into focus. I now had a platform in which to share the ideas of Spiritual Judaism and further the study of Torah, Mitzvot, and Love of Hashem in the world. And finally, not a morning goes by that I do not recall the words of Rabbi Blane who spoke during my first semester of study at the JSLI saying, "Rabbinical Ordination is only the beginning!" And he was right!
I find great joy in celebrating all the milestones and experiences that life has to offer. Whether it be the joyous beginning of a newborn child's life, a young B'nai Mitzvah accepting the commandments for the first time, a marriage ceremony where the spirit of love is celebrated with simcha, or the blessing of a new home or business. I am a Rabbi who will truly listen to the desire of your heart and help to create a festive celebration that resonates with your spirit and honors our tradition as well.
I invite you to walk on this path with me and experience your beginning at Congregation Ner Tamid Shel Torah.